The viciousness of Ne-Gok-Sa could only be matched by one soulless warlord, Me-Burq-Sa. This leader commands attention as he rides in on top of this Marro horse whose skeletal body brings grimace to even the toughest soldiers in battle. Me-Burq-Sa carries a powerful plasma blaster at his side, although with his presence and daunting stare, he almost has no need for it. His stare is so powerful that sometimes his enemies cannot even muster the strength to defend themselves against his relentless attack.
Stats
Life: 3
Move: 8
Range: 6
Attack: 3
Defense: 3
Points: 50
Abilities
Paralyzing Stare 16:
After moving and before attacking, choose any small or medium figure within 6 clear sight spaces of Me-Burq-Sa. Roll the 20-sided die. If you roll a 16 or higher, the chosen figure cannot roll any defense dice if attacked by Me-Burq-Sa this turn.
Synergy
Strategy
Me-Burq-Sa is a Samurai-Killer, able to either take them out at range or defeat their counterstrike power with his Paralyzing Stare 16 ability in melee. His power is also useful for assassinating heroes and other figures with high defense. Beware, though, if his stare fails to affect an enemy with a high attack, Me-Burq-Sa's low health and defense will work against him.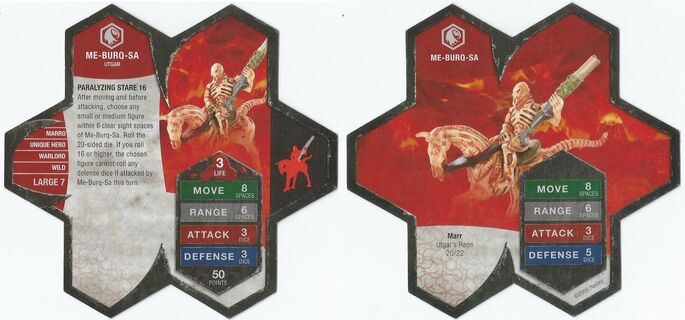 Community content is available under
CC-BY-SA
unless otherwise noted.