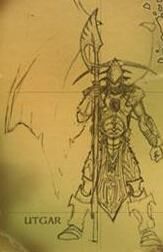 Utgar is one of the five original generals and is the evil general in Valhalla. The five righteous generals (Jandar, Ullar, Vydar, Einar, and Aquilla) are allied against him, though Einar used to be allied with Utgar. Utgar is megalomaniac, a conquistador fed by the will of selfish control. He has plans to find and possess all 15 of the wellsprings from Jandar's vision, and enslave Valhalla's inhabitants, as well as all the other planets with sentient life he knows of in the universe, with his army's help. His forces seek to expand influence and dominate. He wants to enslave and rule with an iron fist; and he holds himself as superior and regards other species as inferior pawns to be used or trampled on. Using the wellsprings, he hopes to increase his might and gain access to the other worlds, forever continuing with his aggressive expansion.
Utgar's Army
Warriors: Blade Gruts, Heavy Gruts
Archers: Arrow Gruts
Champions: Grimnak, Tornak, Ornak, Nerak
Beasts: Swog Riders
Warriors: Marro Warriors
Drones: Marro Drones
Dividers: Marro Dividers
Hunters: Marro Drudge, Grok Riders
Stingers: Marro Stingers
Warlords: Me-Burq-Sa, Ne-Gok-Sa
Warwitches: Kee-Mo-Shi
Overlords: Tul-Bak-Ra
Hivelords: Su-Bak-Na, Wo-Sa-Ga, Tor-Kul-Na
Hives: Marro Hive
Guards: Marrden Nagrubs
Hunters: Marrden Hounds
Deathwalkers: Deathwalker 9000, Deathwalker 8000, Deathwalker 7000
Guards: Zettian Guards
Deathreavers: Deathreavers
Deathstalkers: Deathstalkers
Warden: Warden 816
Minions: Minions of Utgar
Lord: Cyprien Esenwein
Lady: Sonya Esenwein
Duchess: Iskra Esenwein
Devourers: Marcu Esenwein, Rechets of Bogdan, Shades of Bleakwoode
Savages: Zombies of Morindan
Knights: Phantom Knights
Champions: Sir Hawthorne
Ninja: Isamu
Beast: Mimring
Young: Othkurik the Black Dragon
Princes: Moltenclaw
Hunters: Wolves of Badru
Devourers: Anubian Werewolves
Darklords: Khosumet the Darklord
Guards: Dumutef Guard
Mount: Brunak
Beast: Krug, Ice Troll Berserker
Hunter: Feral Troll
Guards: Obsidian Guards
Drow
Warriors: Deepwyrm Drow
Guards: Drow Chainfighter
Arachnomancers: Pelloth, Estivara
Cyclops
Hewer: Torin
Ogre
Warhulks: Ogre Warhulk
Pulverizers: Ogre Pulverizer
Hobgoblin
Sorcerer: Kurrok the Elementalist
Giant
Warrior: Shurrak
Brute: Frost Giant of Morh
Goblin
Cutters: Goblin Cutters
Elemental
Constructs: Fire Elemental
Hydra
Marauder: Fen Hydra
Sahuagin
Raider: Sahuagin Raider
Lycanthrope
Darklord: Werewolf Lord
Mind Flayer
Psychic: Mind Flayer Mastermind
Figures with Special Abilities Against Utgar
Templar Cavalry: Righteous Smite:
When attacking an opponent's figure who follows Utgar; Templar Cavalry receive 1 additional attack die.
Ana Karithon: Protection From Evil Aura:
All small or medium figures you control within 3 clear sight spaces of Ana Karithion add 1 to their defense dice when rolling defense against an attack from a figure who follows Utgar. Ana Karithon's Protection from Evil Aura does not affect Ana Karithon.
Community content is available under
CC-BY-SA
unless otherwise noted.